Written by: Ray Butler
Follow us on Twitter! @Prospects365
On Sunday, the Westgate Las Vegas SuperBook released its season win totals for the 2019 MLB regular season.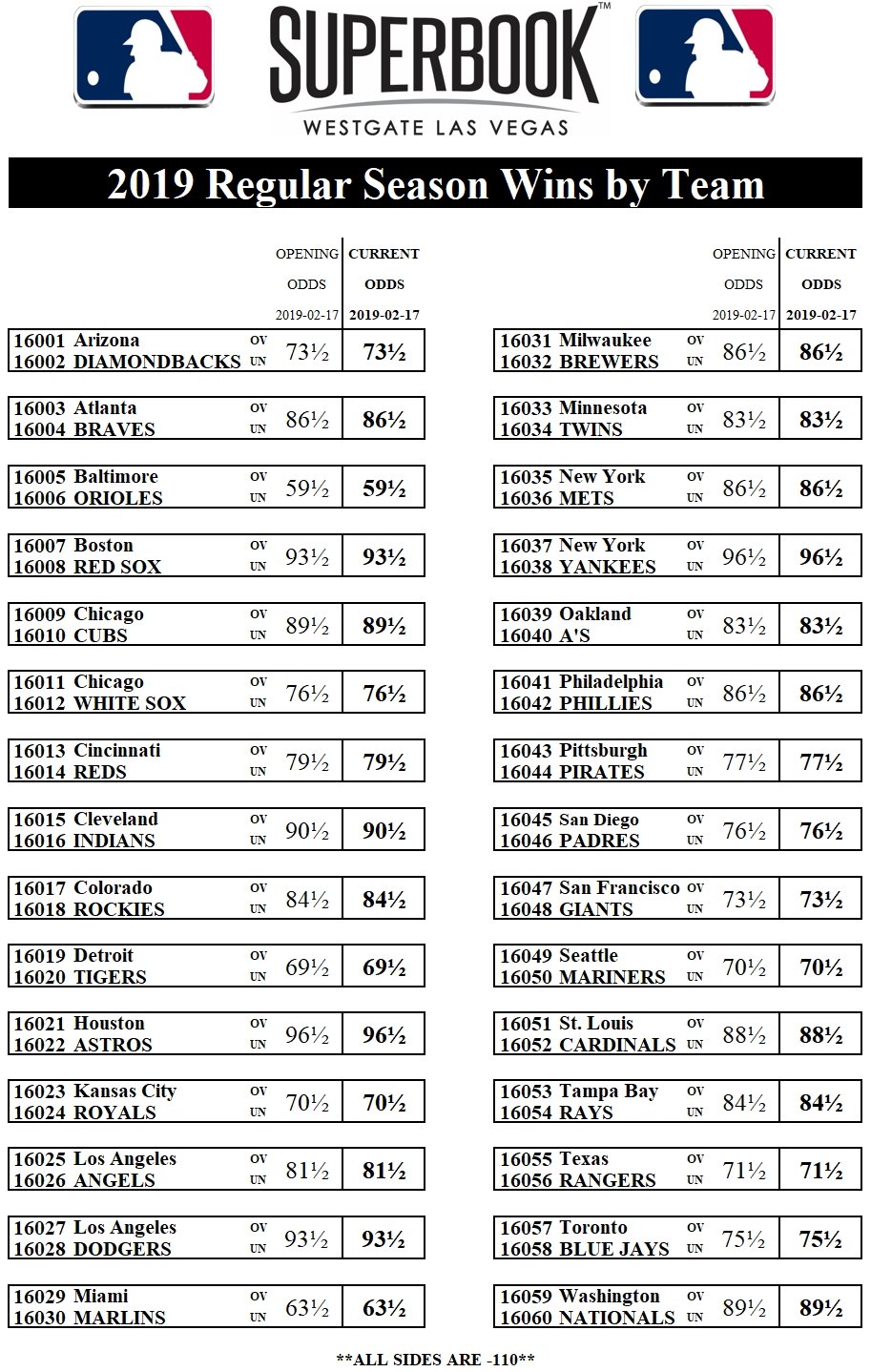 If you remember my predictions from last season, despite finishing an unspectacular 2-4, I did nail the Phillies Over in what I claimed was my 'all in' wager of the 2018 season.
For some context before we dive in, you need to know PECOTA's projections for this season.
And Steamer's projections for this season.
Unlike last season when the industry consensus was the win total props felt just about right, I think there's some significant value to be found this season. It's quality-over-quantity in 2019, but I like four plays. Let's get to work.
Note: These predictions are listed in descending order from smallest unit play (one unit) to largest unit play (max play= five units).
San Diego Padres: 76.5 Wins
I fell flat on the Padres OVER last season, but I'm back for more in 2019. One of the main reasons for the odd timing of the publishing of this article is that my gut tells me free agents Bryce Harper and Manny Machado will announce their destinations sometime this week. While I fully expect Harper to sign with the Phillies, the Padres are, at minimum, a possible landing spot for Machado, which would likely cause this prop to be taken off the board (then reappear at about 80 wins or so). Vegas has protected themselves slightly against early wagers on the Padres OVER (both PECOTA and Steamer project San Diego to win 75 games this season) to limit liability in the case Machado does ink with the organization, but I think this has a good chance to hit regardless. It's my opinion that projection systems are overrating the Diamondbacks this season, and I think we'll look back and view the Padres as the main beneficiary of that notion. With a mixture of youth and experience already on the big league roster and prospects like Fernando Tatis Jr., Chris Paddack, Josh Naylor, Logan Allen and Cal Quantrill bound to make their big league debuts at some point this season, it's easy to see San Diego as one of the surprise teams in the National League in 2019. If we end up being ahead of Manny Machado inking with the Friars, this prediction should walk into the end zone.
Play: San Diego Padres, OVER 76.5 WINS– Wager: ONE Unit
Cincinnati Reds: 79.5 Wins
Not only are the Reds currently viewed as one of baseball's funnest teams heading into the 2019 season, but they'll eventually be considered one of the most underrated. If you haven't seen Yasiel Puig's 2019 projections–fueled by taking his home-field swings at Great American Ball Park–you should really take a minute to do so. That also won't be the last time you read about him on the site this preseason. Sonny Gray doesn't have the upside to become a bonafide staff ace, but he does provide further stability to a starting rotation that also added Tanner Roark and Alex Wood this offseason. And with Steamer projecting Joey Votto to hit 22 home runs this season (he hit 12 in 2018), a power resurgence from the 35-year-old would add a spark to an already-formidable starting lineup. The NL Central will be a highly-competitive division, but the Reds will still find a way to finish at .500 or better.
Play: Cincinnati Reds, OVER 79.5 WINS– Wager: ONE Unit 
Chicago Cubs: 89.5 Wins
Just how much do you believe in the Cubs' starting rotation? Steamer (88-74) and PECOTA (82-80) differ greatly on their expectations for Chicago this season, with the latter projecting the staff to allow 0.24 runs more per game than the former. With the additions of Paul Goldschmidt and Andrew Miller, the Cardinals have definitively improved their active roster this offseason. The Brewers are finally getting Jimmy Nelson back in 2019, and they've also added Yasmani Grandal and a full season of Mike Moustakas to their hand this offseason. The Reds have acquired Yasiel Puig, Matt Kemp, Alex Wood, Sonny Gray and Tanner Roark since the end of the 2018 season.
The Cubs, on the other hand, have added Brad Brach, Brandon Kintzler and Daniel Descalso this offseason. They're also expecting Yu Darvish and Brandon Morrow to pitch at full health throughout 2019, and they should have Cole Hamels for the duration. Still, the lack of splashy acquisitions this offseason seems to point to the organization having a lot of confidence in their starting rotation, which should be comprised of Darvish, Hamels, Jon Lester, Kyle Hendricks and Jose Quintana. Steamer projects the quintet to allow 394 earned runs in 883 IP this season, good for a 4.02 ERA, which would have ranked 13th amongst starting rotations last season. Of the teams with worse starting rotation ERAs last season, only three won more than 90 games (the Yankees and Athletics had two of the best bullpens in baseball, and the Rockies had the second-highest scoring offense in the National League). If any rotation member were to miss time with injury, it seems Tyler Chatwood would be the most obvious fill-in candidate. He had more walks than strikeouts in 103.2 IP last season.
I do like the acquisitions the Cubs have made this offseason. Brach and Kintzler are both underrated bullpen options capable of filling important, late-inning roles. Descalso posted a .769 OPS last season after undergoing a swing change post-2017. But simply put, I'm not sure Chicago has done enough to offset the moves St. Louis, Milwaukee and Cincinnati have made. They'll certainly be in the thick of things in the NL Central throughout the regular season, but I think they'll fall just short of their Vegas-projected season win total.
Play: Chicago Cubs, UNDER 89.5 WINS– Wage: TWO Units
Miami Marlins: 63.5 Wins
I'm going to keep this simple. I was on the Orioles UNDER last season (73.5) because I viewed the team as the primary victim of the bloodbath that would be the AL East in 2018. We won that prop by 26.5 games. The margin won't be quite that wide here, but I view the Marlins in a similar fashion this season. The Braves, Mets, Nationals and Phillies (especially if they sign Bryce Harper) will all be capable of winning 90 games in 2019, leaving the Marlins as the unquestioned doormat of the NL East. The original PECOTA and Steamer projections both had Miami at 66 wins this season, but that was prior to the J.T. Realmuto trade. Furthermore, the Marlins don't possess a prospect who might possibly make a big league debut this season that could impact their win total enough to scare me. The Marlins are bringing a knife plastic sword to a gunfight in 2019, and we'll line our pockets because of it.
Play: Miami Marlins, UNDER 63.5 WINS– Wager: THREE Units
Follow us on Twitter! @Prospects365
Featured image courtesy of the San Diego Union-Tribune